World's best and worst lovers
Have you ever wonder which country has the best or worst lovers?
How do men and women rate each other?
Are couples from the same country a good match for hot passion?
At saucydates.com we surveyed a massive 22,753 members of our online dating network and asked the following questions:
Q1: How good was the last person you had sex with on a scale of 0 to 10?
0 : Worst ever
1 : Awful
2 : Extremely bad
3 : Very bad
4 : Bad
5 : Average
6 : Quite good
7 : Good
8 : Very good
9 : Amazing
10 : Best ever
Q2: What was the country of origin of the last person you had sex with?
As the survey was run within our dating site we already knew the gender and sexuality of the person taking the survey. We looked at straight males and females only so men would be rating women and vice versa.
Hottest lovers infographic
Check out our visual infographic that shows the results with the aid of thermometer, ranging from hot to not. This also includes the global results so you can see how men and women score, or more importantly how men and women rate each other.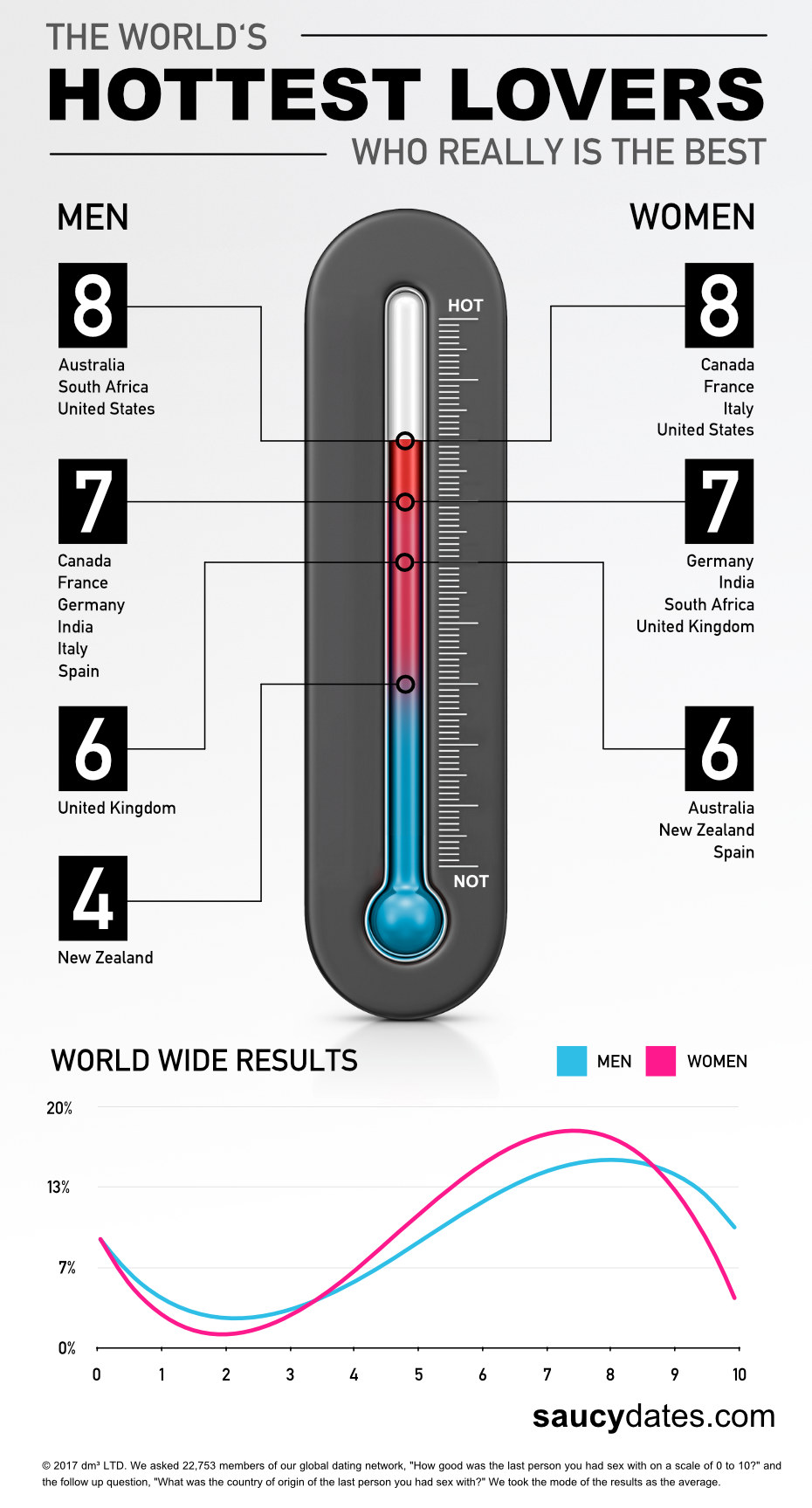 Embed this infographic on your site
Copy and paste the following code to add our hottest lovers infographic to your website or blog.
Discussion
The best male lovers are from Australia, South Africa and the United States with a "very good" rating.
The best female lovers are from Canada, France, Italy and the United States with a "very good" rating.
Couples in New Zealand bring up the rear with males scoring a "bad" four and females managing a "quite good" six.
How men and women rate each other
Looking at the global results you can see men and women are equally harsh when dishing out a "worst ever" zero. At the other end of the scale, women are more generous handing out "best ever" tens. Overall women are more satisfied with their sexual partners and rate most men a "very Good" eight, men are less satisfied and rate most women a "good" seven.
Inter origin compatibility
America men and women are the most compatible, scoring an earth moving eight.
Men from the United Kingdom, New Zealand, Canada, France and Italy all rate lower than their female counter parts.
Women from Spain, Australia and South Africa all rate lower than their male counter parts.
The majority of Australian men are unfortunate to live far away from females who rate equally.
Summary
There's a clear variance in performance over the globe but as they're averages you still could get lucky when you get lucky. But if you ever find yourself in the fortunate position of having two offers and not knowing which to take then may be use our stats to help you pick!