How to have sex on a plane
Technically it's not really the mile high club as a plane cruises at 37,000ft which is 7 miles. At 1 mile (5,280ft) you're well into final approach, flaps are being deployed and a few minutes later so will the landing gear. Hardly the right time for a quickie when the cabin crew are asking you to open the blind and fold your tray table.
Our attention to detail will hopefully make this the best sex on a plane article online. Not only will you find the best locations, but the make and model of aircraft and even which airline! There are also a few more surprises on the way. So sit back, relax and enjoy the flight with us today on Saucy Dates Airways!
This was a jumbo survey as we wanted to get some great stats and results for you. We surveyed an international audience of 11,179 people over our dating network.
We asked the following:
Sex on a plane . . .
Would like to?
No way
Already done it!
For those that had, we asked a lot of follow up questions:
Where did you have sex on a plane?
Who did you have sex with?
Was it day time or night time?
How long did sex last? (intercourse, not foreplay)
What was the airline name?
What was the type of plane?
Did you get caught?
Share any other comments
By combining replies with the "Did you get caught?" responses allowed us to calculate a risk factor for all scenarios.
The safety card infographic below will give you all the data as quickly as possible before we discuss it in more detail so please give it your full attention even if you are a frequent fornicator.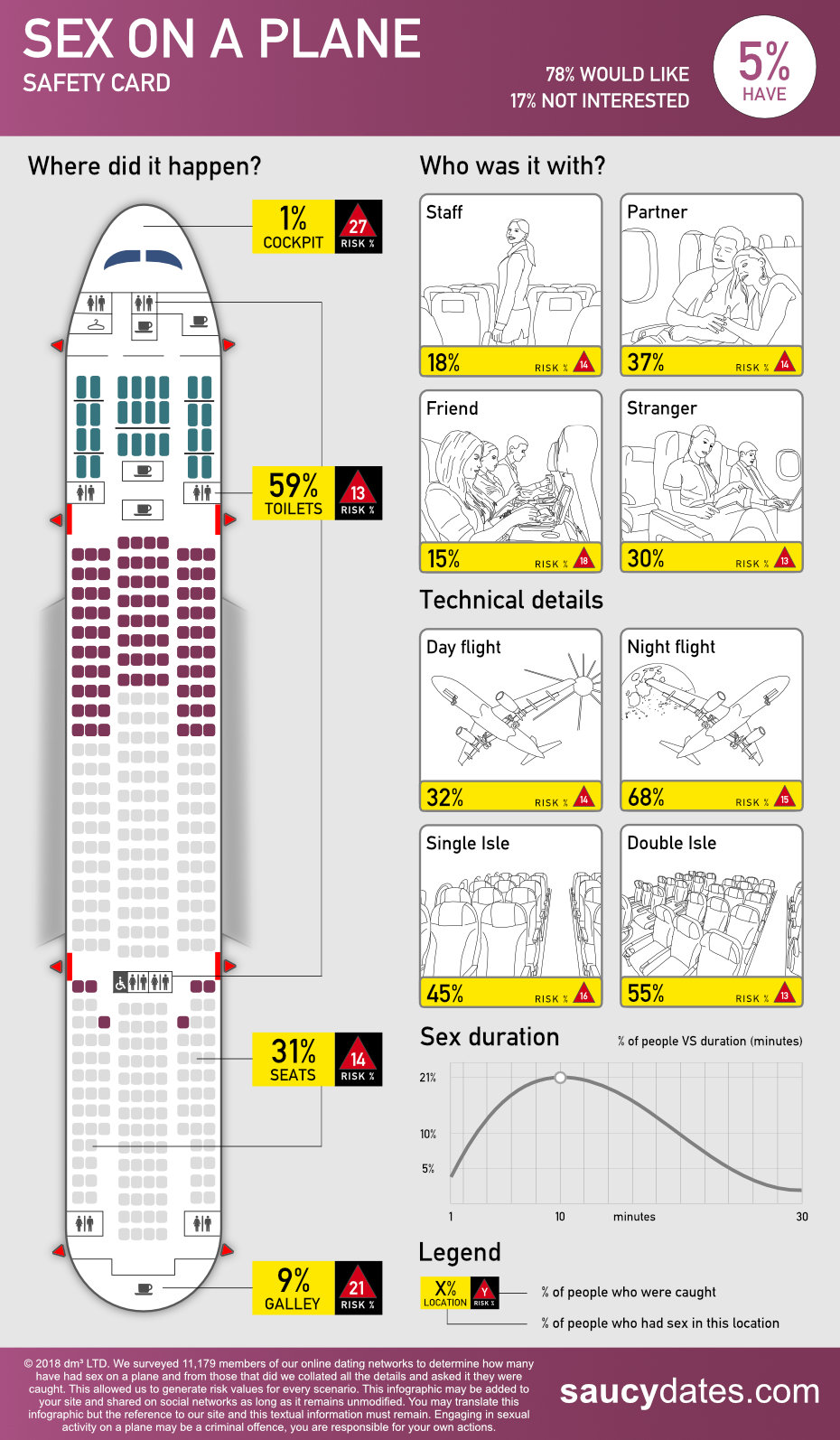 Embed this infographic on your site
Copy and paste the following code to add our sex on a plane infographic to your website or blog.
Who was it with?
Let's get the biggest turbulent discovery uncovered first. Staff! When devising the question for who did you have sex with there were not many options in such a confined space. Partner, stranger and friend seemed to cover it all and we added staff as it was technically possible but we thought unlikely. How wrong we were!
Staff members
18% of sex on a plane occurred with a member of staff. From the comments there are some cases of two staff members but the majority are staff / passenger combinations. Don't think it's risk free as 14% of people having sex with a member of staff got caught.
Male, 39, New York, USA:
"Flight Attendant spilt a drink on my leg, said sorry I got up and walked to the bathroom. She was hot and gave me the look so I told her I could use some help with my pants and she unzipped me . . . . Next thing I know I have her bent over . . . . ."
Female, 25, Delhi, India:
"It was super fun, my crew friend and I had been wanting to do it for a long time and then we got the chance . . . . ."
Male, 39, Cleveland, USA:
"I overheard the stewardess talking to her friend, telling him that she hadn't had any sex and she broke up with her boyfriend and it had been a long time. I hit on her for a while and she finally asked me if we wanted to go in the bathroom and have sex. She told me there was no time for foreplay and to have it hard by the time I got in there . . . ."
Partners
37% are couples travelling together, which is the highest result but far from a majority. Most sexual intercourse in the sky is hookups / casual sex.
Male, 40, Los Angeles, USA:
"My girlfriend snuck in the bathroom first. I waited two minutes and then gave her a secret knock that we both had agreed on and she let me in, we got down to business . . ."
Male, 44, Orlando, USA:
"It was night and everyone was asleep. We went to the back bathrooms. She went first and then I went back a minute later. No one even noticed. We spent about 15 mins in there, it was really fun thinking we could get caught at any moment. It was very exciting."
Strangers
30% are strangers. This result was also surprising and if your travel alone you may pay more attention to the person you're sitting next too.
Female, 24, Huddersfield UK:
"It was huge fun. I did it with the guy who was sat in the seat next to me. We had been chatting for a while and he just asked. We both carefully made our way to the bathroom, lucky the plane was dark as it was a night flight."
Male, 50, Edmonton, USA:
"I over heard a woman sitting behind me a few seats back talking on her phone about the mile high club. I turned and smiled at her and she blushed as she didn't think anyone heard. Some time went by and I decided to go to the bathroom, everyone else was asleep or staring at their mobiles. As I stood up and turned to walk past her seat on my way to the bathroom. I winked and nodded towards the bathroom and went and waited a few minutes. I figured she wasn't coming and felt stupid for even thinking about it and when I opened the door she was standing there. I immediately pulled her close and started kissing her . . . . . "
Female, 30 Ottawa, Canada:
"The girl walked by me in the isle and she touched my shoulder, she had been giving me signs for an hour. I got up behind her, went to the toilet, looked around and walked in. I hiked my skirt up and sat on the sink while she finger f##ked me and licked my . . . . "
Friends
15% of sex is with friends. If you consider that 78% of people want to fulfil this fantasy it's not surprising that friends talk about the idea and then go for it! Be warned, the risk of getting caught with your friend is much higher. Could this be due to the awkwardness the idea?
Male, 34, New York, USA:
"It was something that I wanted to do and I saw an opportunity to finally nail a friend of mine! I knew that she could not resist this opportunity so i got her to follow me to the bathroom . . . . "
Female, 52, Doncaster, UK:
"Going aboard with my scuba diving buddy, passion got the better of us and we dashed to the toilet. In a flash our hands were in each other's panties . . . . ."
Where did you have sex?
There are not that many location variations on a plane, it's a receptive arrangement of seats, toilets, galleys and just one cockpit. On some larger aircraft there's a secret door leading to crew cabins but we didn't have any claims of sex from this location so they are not included in our results (get in touch if you have a story).
Toilets
59% of people had sex in the toilet which is not surprising as it's the most private location on a plane, although one of the most cramped. 13% of people who had sex in the toilet were caught.
Male, 59, New York, USA:
"The toilet door was unlocked, I opened the door and saw a woman. She invited me in and took a photo to prove she was now a member of the mille high club!"
Female, 27, Santa Clara, USA:
"I just went to the bathroom when one male attendant was looking at me seductively. He winked so I gave him a sweet smile and I gesture him to follow me to the bathroom. He had a huge . . . . . . ."
Seats
31% had sex in their seat and 14% of them were caught. If you're wondering how, here are some insights:
Male, 47, Brooklyn, USA:
"Long flight to Dubai, we moved the armrest and shielded ourselves with blankets and it was awesome!"
Male, 50, Aukland, New Zealand:
"We managed to get three seats for the two of us. After a bit of warming up under the blankets, lay down as if to go to sleep and ended up f##king nice and slowly for a while . . ."
Kitchen / Galley
Now it's really started to get high risk. 9% of respondents claim to have had sex in the kitchen / galley and 21% of them were caught.
Male, 51, Cheltenham, UK:
"We had booked the back seats on the flight, always try and get them. We got talking to one of the stewardesses, she was very flirty with my female friend, but she was not that way inclined....We got chatting and I told them both I would love to have sex on a plane, it has always been a fantasy of mine. The stewardess told us she has done it a few times in the past and loved the thought of getting caught. I asked the stewardess if she was interested in taking me back to the galley to have some fun with her. This is when my friend piped up and told me if it was going to happen then it was going to be with her, not the stewardess. To which the stewardess replied, if we wanted to go back she would draw the curtains, but with no guarantee that no one would find us. The rest they say, is history!"
Cockpit
Some responders claimed to have sex in the cockpit of plane. By cross referencing 'plane type' / 'who was it with data' and 'Any other comments' we discovered that the vast majority of these were private jets or light aircraft. We stripped these from the results to keep everything to commercial aircraft where possible. Most respondents refused to comment or disclose the airline. But some did!
Male, 32, USA: Boeing 737
"We both work the night shift and it was a spark of the moment kind of thing."
Male, 25, USA: Airbus A320
"Threesome"
Our best estimate of commercial flights is 1% of respondents claim to have had sex in the cockpit and it poses the highest risk of getting caught at 27%. The airlines will remain a secret.
Type of plane
We wanted to determine if more sex occurred on larger planes with two isles vs. smaller, single isle planes. There are many more single isle planes in active service than larger variants. Our results have not been weighted for fleet size (just incase you were thinking that).
Without weighting, double isle planes are more popular, at 55% vs 45% for single isle. From a recent Boeing commercial aircraft outlook report the world market has x3 single isle VS double isle, making double isle planes the clear choice for most passengers. If you want to get down to the model of choice it's a Boeing 747, with not much separating the Boeing 777/787 and Airbus A380 for second place.
Airline
We asked our respondents to name the airline that they had sex on. These are raw counts and don't take into account fleet size, age of company and other factors. About 8 million people fly every day from all over the world and our survey is only a very small subsection. Additionally our users are predominately from the USA and UK. Therefore these results are purely related to our survey respondents claims and not indicative of the behaviour of passengers who use a particular airline. You can see some of the airlines are no longer in operation for some time, this suggests that people who have sex on plane may only do it once with the aim of 'crossing it off the list'.
Time of day
We ask participants if they had sex during the day or night to understand if it was easier when the majority of passengers were asleep. Night flights were the most popular at 68% and day flights scored 32%. Interestingly, a higher percentage of people were caught having sex on night flights. Could it be more obvious when many of the other passengers are sleeping and the aircraft is much quieter?
How long did it last?
Hard and fast or slow and passionate? We ran a recent survey on how long does sex last so we know that the international average around the 16 minute mark. But as you can image, sex on a plane is much quicker. The majority of people had sex that lasted 10 minutes.
Getting caught!
What happens if you get caught? Statistically speaking, most people don't. 86% get away with it and 14% are caught in the act. Of that 14% some are discovered by fellow passages, others by staff.
Male, 48, Los Angeles, USA:
"My girlfriend came to the restroom while I was in there, knocked and I let her in, f##ked her. Just as we were ready to get out (5 minutes later), a flight attendant knocked and told us to return to our seats and never said anything else. However she did pull me aside at the gate when landed and said 'never do it again'."
Male, 22, Dallas, USA:
"I was dating the air hostess but while going back home she wanted me to f##k her so we decided to take the risk and try it in bathroom but other staff ended up knocking on the door and we got caught."
Female, 38, New York ,USA:
"I went to bathroom first, he followed. It was just getting good when someone knocked on door needing to use bathroom. We had no choice but to come out head high. I was laughing and still enjoyed myself"
Summary
5% of people have and 78% would like to, that's 83% of passengers on a plane with the thought of joining the mile high club. Combine that with a boring long haul flight and free drinks (on some flights) it's not surprising that it happens. It also doesn't seem to matter if you're single. In fact, being single is an advantage as strangers, staff and friends are all potential club members.
You won't find any laminated versions of our sex on plane safety card in the seat pocket on your next flight, nor will it form part of the safety briefing. However, it may make you look differently at the people you're sharing your journey with now you know some of their stories.
Sit back, relax and enjoy the flight!