Hookup sites
Hookup sites and apps are one of the most popular dating niches online today. When a niche in any business is successful it attracts unethical business owners to take advantage of customers. A vast number of hookup apps and websites are fake.
We surveyed 21,343 users of our dating network to find out their experiences within the hookup dating sector. Throughout this article we also hope to empower you with the knowledge to spot a fake site quickly.
We asked the following questions:

Have you ever joined a fake hookup site?
How much money did you pay / loose?
Did you get a refund?
When you join a dating site do you read the terms and conditions?
What are your comments about fake hookup sites/apps?
The infographic below represents the results and will get you up to speed quickly.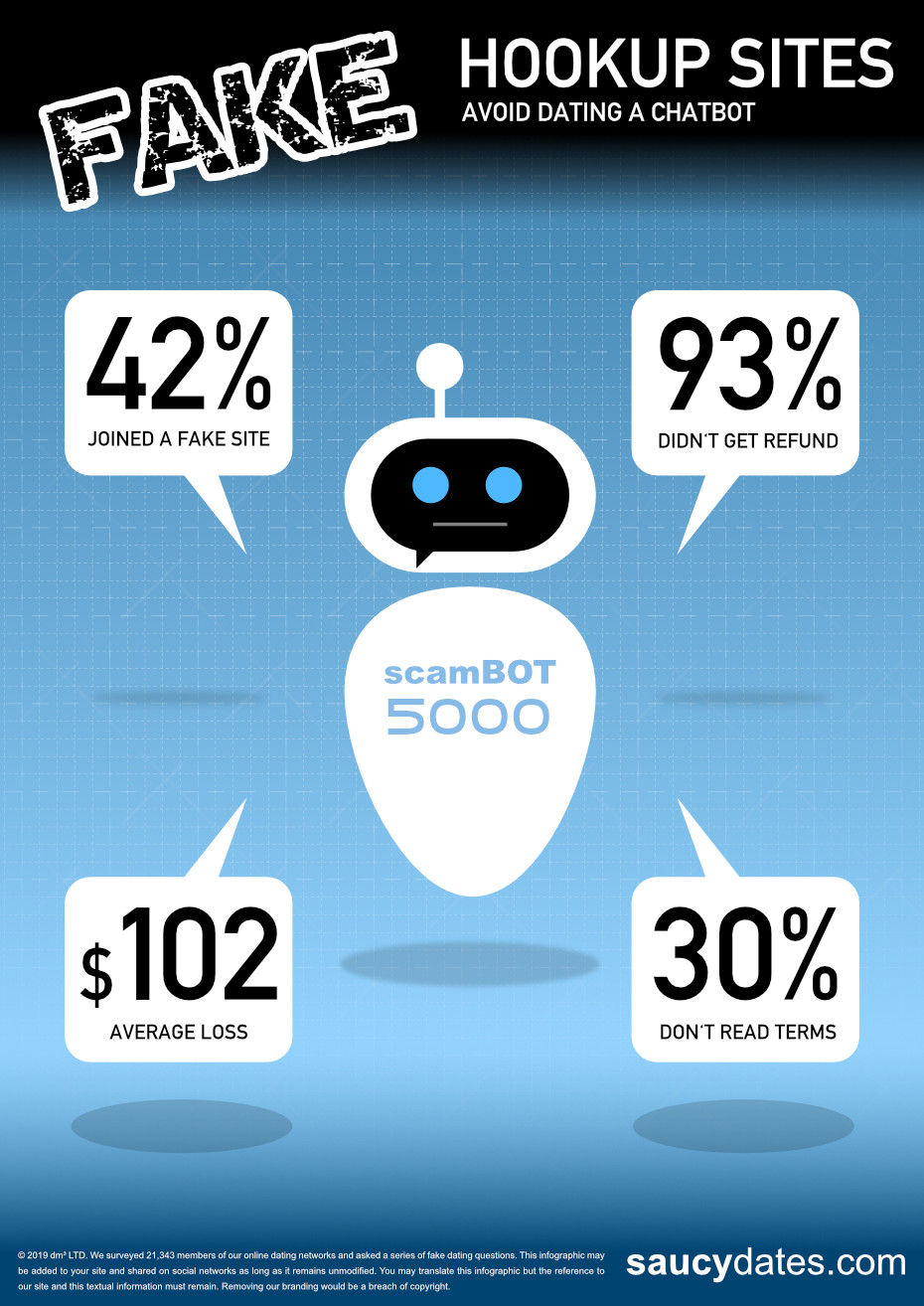 Embed this infographic on your site
Copy and paste the following code to add our hookup site infographic to your website or blog. .
The results
42% joined fake site
Testament to how many fake sites can be found in app stores and search engines.
30% of people don't read terms
This result was surprising as we were expecting less people to read them. This could be a result of so many people joining a fake hookup site previously.
93% didn't get a refund
When a company advertises a false service the customer can claim a chargeback with their credit card company. Are consumers unaware they can do this? Are they too embarrassed to say they joined a hookup site? Are the fake sites operators experts at fighting chargeback claims via their own terms and conditions?
$102 average loss
Fake hookup sites often have a high monthly subscription cost, in the order of $50. The average loss would suggest the fake brands are hitting the user with 2 months subscription or sneaky double billing (which we will get to later).
Consumer comments
This is what the consumers are saying:
J, 38, Orpington, UK:
When UK women have a European background in pictures but when you ask them what places they like the best in their city they have no clue.
D, 34, Boston, USA:
Always go with your gut instinct. If it's too good to be true then it has to be fake.
S, 59, Chicago: USA:
They are very upsetting and should be outlawed. They are nothing short of predatory and dishonest. They take advantage of people and their emotions. They never deliver what they promise accept the fact of taking your money.
D, 70, Hanford, USA:
I learned to Google reviews, but I see that most reviews are fake. So be careful!
How to protect yourself
Fake profiles VS fake sites
Although these sound very similar there is in fact a huge difference. All dating sites have fake profiles, these are profiles made by scammers who try to extract money from others via a romance scam or by redirecting people to a cam or dating site that they earn a commission. Genuine sites will try their hardest to remove these profile but it can take several hours to detect based on the scammers actions.
A fake site is when the vast majority of profiles are made by the sites owners or when the site owners animate old accounts to make them appear current. As these accounts are fake they can do wonderful things such as message you automatically from a library of responses and lure you into their upgrade trap.
Male to female ratios
Over the entire dating industry, more men use online dating than women (60% 40%). Within the hookup dating niche there are considerably more men, which is expected. A true hookup site is likely to have 90% men to 10% women.
You can test this by performing a search for men and then women at a close proximity and count the results of people online. Be aware that many fake sites will not show online status. With the gender imbalance so severe a male user should expect most of his messages go unanswered, if he gets lots of replies then something is fishy.
No online time shown
Showing online status from a technical standpoint is ultra simple, when user logs in, store the time then subtract it from the current time. Hey presto, last online time can be shown. If a site shows no hint of when a users was last seen they could have been inactive for 5 years.
Double billing
Fake sites often have a sneaky check box on any payment pages, which is checked by default. This box which you're agreeing to without really knowing about will bill you a second subscription service, usually another dating site or a porn site.
User registration
A hookup site who's business model is fraudulent will likely ask you very few questions when you join. The aim is to get the users to the fake messages as quickly as possible. There should be following questions as an absolute minimum.
Gender
Location
Email alerts and privacy
Gender is needed so search results loosely match your requirements
Location must be set to show local matches
Email options should be requested by law
If you're asked very little but the fake people messaging you have a biography, age, gender, sexuality, city, country, interests and photos then delete your account.
Location of company
Within the terms and conditions you should find the company's location. If the registered office is within the United Kingdom, United States, Canada or another EU country then you have some protection as the laws within these regions will penalise companies who defraud the public. If the registered company is in Cyprus, Malta, Ukraine, Russia or China then investigate further. There will of course be genuine sites from these regions but also many fakes.
Fake review sites
If you're cautious and search for a site or app's review before you join then be very careful. Most of the hookup review sites are also fake! Fake sites make their owners a lot of money and they promote their brands via affiliate networks. Affiliates build fake review sites that report real sites as scams and scam sites as real! Their aim is to pick up search traffic for people researching a site, tell them it's fake and direct them to another site to earn a large commission. Once you learn what these fake review sites look like you could be better off doing the exact opposite of what they recommend!
Fake app store reviews
The mighty app stores of Google and Apple are not free of fake dating apps and their owners will fake reviews. Spend your time reading the 1 and 2 star reviews and see if you think the reviewer is justified or just frustrated they didn't get the attention they wanted. Remember, male users should not be getting a lot of attention due to male/female membership ratios.
Terms and conditions
Finally, this is the big one. Read the terms and conditions! A fake site in most countries will use the terms and conditions to protect themselves. This means they will tell you they're fake but it will be burred in pages of small print. If the site has terms that have been run through Google translate and make little sense in English, walk away! These are the types of items to look out for in the terms.
Entertainment site:
A fake site will state they are for entertainment purposes only and are not a dating site.
Virtual profiles:
Fake sites say they use fakes but they give them a fancy name. They claim they are used to enhance your experience.
Hookup dating check list
Before you pay to join a hooking site complete the following checklist.
| Topic | WARNING! | OKAY |
| --- | --- | --- |
| Male to female ratio | Less then 10 men per female | More than 10 males per female |
| Online time shown | No | Yes |
| Double billing | Yes | No |
| Limited registration | Yes | No |
| Location of company | Outside US, UK, CA, EU etc | Within US, UK, CA, EU etc |
| Fake review sites | Recommend on fake review | Not recommend on fake review |
| Terms and conditions | Entertainment site, virtual profiles | Terms look sensible |
If the site scores 3 or more WARNING! points then you could use this as in indication that it may be a fake hookup dating site.
Summary
Hopefully you're now equipped with the knowledge to spot a fake hookup site before you even join it, or at least before you pay a membership fee. Consider sharing the checklist with your friends, the more people who are made aware of these sites the better it is for everyone.