Dating on non dating sites
32% of online daters have found a date on a non dating website or app. Now you can find out which non dating sites have been the most effective. With the advent of web 2.0, most sites today have some form of social communication. If two people can converse then the potential to arrange a date becomes a reality.
We surveyed 1,606 members around the world of our site saucy dates and asked the following questions:
Have you ever found a date on a non dating app / website?
Which non dating apps / websites did you find a date?
The infographic below will get you up to speed with the results quickly.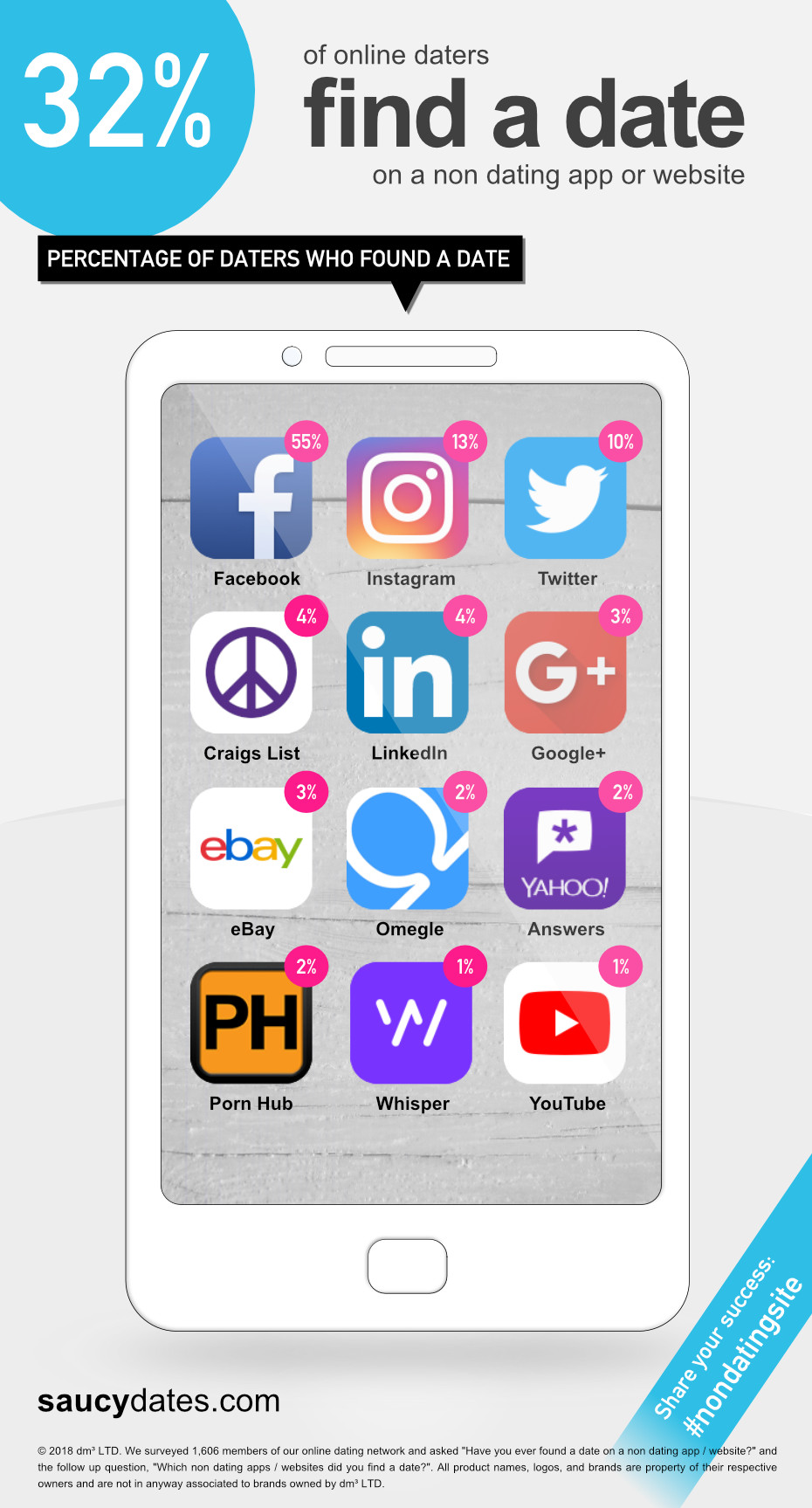 Embed this infographic on your site
Copy and paste the following code to add our dating without apps or websites infographic to your website or blog.
Facebook
It's no surprise that Facebook is way ahead of everyone else when it comes to finding a date. Almost the entire planet is a member so all the singles are there also, you just need to find them! The benefit of a mutual friend takes away the "stranger factor" often associated with online dating. However, if you're looking for something to satisfy a fantasy or fetish then it's best avoided or everyone you know will discover your secret.
Instagram
In second place, Instagram's photo focus makes it quick to see if there's a mutual physical attraction. Dating sites can often have profiles without pictures which is very frustrating to serious daters as a lack of a picture just wastes time for everyone.
Twitter
Twitter is very easy to engage with new people, like a Tweet, reply or follow. Private messages allow you to make it more personal. If you try advanced search you can even search for Tweets near you. Combine a local search with a hobby or interest and you're well on the way to finding a match.
Craigs List
Craigs List has a bit of everything, personals, items for sale and discussion forums. We almost excluded it from the top 12 as the personals section is essentially a dating site but it's only one element of the site. If you don't think it should be here then shift all the results up one position and add Amazon in at number 12 (it was at 13).
LinkedIn
It's meant to be business and not pleasure but it's the 5th most successful non dating site to find a date. Singles are connecting with strangers and people they have met through business. Probably best to avoid people at work!
Google+
Google is usually the leader in most internet technologies but only manages 6th place in our survey results. If your a Google+ fan over Facebook then don't discount it as an alternative location to find a date.
eBay
This was a real surprise when we collated the results but on reflection it makes a lot of sense. You list an item for collection only, the winner of the auction visits your house to collect and both parties leave feedback of the exchange. If the feedback is positive and says, "He was a lovely man to deal with", for example and there was a bit of spark, you already have each others mobile numbers, things can easily move to the next level. In one transaction you're already way ahead of the dating site, you have met, swapped numbers and visited their house.
Omegle
Press a button and chat with a random stranger via text or video. Additionally you can choose a topic so selecting a major city as your topic will give you a chance of someone more local. It's very much like online speed dating. If you connect with someone and there's is mutual attraction and your not a thousand miles away then a date is a real possibility.
Yahoo Answers
Ask, search or post questions on almost any topic you can imagine. Everyone has a profile page with an option for an avatar and can enable private messages. Show off your intellect or sense of humour and see where it takes you.
Porn Hub
May be you didn't know (as I'm sure you've never visited the site!), but Porn Hub has a community network allowing people to join, write a profile and search for others with similar interests. This is all the essential ingredients of a dating site. When combined with the fact that Porn Hub is ranked as the 35th most popular website in the world is not surprising that people hit it off and start dating.
Whisper
Whisper is a social platform for sharing real thoughts and feelings so it's not a shock it made it to the list. It's most popular in the Americas, UK, Germany and India.
YouTube
The original creators of YouTube intended it to be a dating site but it evolved over time to a video sharing platform. There are a few ways it could still be used for dating today. Publish a video to broadcast to the world that you're single, or contact someone else you find attractive. May be best to start with comments below the videos.
Successful daters quotes:
J, 18 female UK Facebook: "He liked my picture and we started chatting"
S, 19 female UK Facebook: "I added him randomly, we started messaging, we met up and had a few drinks then . . . ."
E, 58 male USA eBay: "I bought an item from her and had similar interests."
H, 42 male USA eBay: "I went to purchase an item from a seller who happened to be a gorgeous lonely house wife"
G, 23 male, Canada Instagram: "Commenting on her pictures and then it grew from there"
D, 23 male UK Twitter: "Commented on a post and just started chatting"
Bloggers challenge
If you're a single relationship blogger and want to try something different from the mainstream dating brands and love a challenge this year then why not try and find a date on each of our top 12. Share your experiences with the tag
#nondatingsite
, we would love to know how you get on. It could make a wonderful series of blog post to share with your readers.
Summary
A dating site and all of the sites listed in our article all have the same basic ingredients of people plus communication. The dating site has the advantage that its members are single, the other sites you need to figure that out yourself or accept a lot more rejection.
We don't suggest you give up on dating sites but as you use other sites in your daily life remember they could provide you with the love of your life. All of our top 12 are free to use so you really have nothing to loose. If you're successful and people ask how you met your partner, then imagine the looks when you say, "I found him on eBay", or "I picked her up on Porn Hub".
Good luck and have fun!