Types of fake dating profiles
Do you know why there are fake dating profiles? Did you know there are many different types of fake profiles. Read on and we will help fill you in with all the details. Being aware of how and why is critical to a safer online dating experience.
---
Bot / staff fakes:
Profiles to increase upgrade rates
Sometimes I really feel for online daters. There are criminal gangs running fake profiles but when a site makes its own fakes to increase their profits then it can be a really frustrating experience. Many adult dating sites that have a paid upgrade perform some form of virtual membership, as we are 100% free we have no reason to do this and even if we were a paid it is something I would not allow. You can find out sites that do this by reading their terms and conditions. They are big brands making many millions and assume most people will not read the small print. It's marketed as an extra feature for entertainment purposes or to increase the overall user experience by increasing the number of paid members who can exchange messages. The virtual profile practices include:
Staff members running profiles
Bot / scripts running profiles
Sending messages automatically from inactive accounts
If you want to avoid these 'entertainment' profiles then read the terms and conditions before you join or you may be paying an upgrade with no chance of ever meeting the person you think you have been talking to!
---
Gender fakes:
A man pretending to be a woman
The most common reason for the existence of this type of fake is the male pretends to be a bisexual female or lesbian. They talk to other females with the aim of collecting intimate pictures. The other type of gender fake is a male pretending to be a female with the aim to get pictures or webcam sessions with another male. These are gay or bisexual men not being honest and upfront about their own sexuality. With both combinations, pictures will often be the flaw in their plan. They will have no choice but to use pictures of another person so will have access to a limited set of images. They will also avoid using the phone or web cam.
---
Pseudo fakes:
Being someone their not
The target can be both males and females. An online persona for some people is an ideal way to live a life that they don't have. For example, someone who's insecure about their looks or body image will use stolen images to get attention that they lack in the offline world. Once again a set of stolen images will be required and web cam will be avoided, however, telephone calls will be possible. This type of fake will make excuses for not meeting in person. They will try to draw out the fake relationship as long as possible until the other party gives up and looks for someone more serious.
---
Affiliate scammer:
Earning commission from web traffic
Usually performed by males and the target is other males. They create a fake profile with stolen images of an attractive female and attempt to direct you to another website. The type of site can be varied but typical sites are webcam shows, other dating sites and personal verification sites. They will earn sales commission from you signing up or purchasing a product or service.
---
Sextortion fakes:
Blackmail from explicit images
This type of scammer is very nasty and is considered as organised crime. They will create a fake profile and ask you engage in a sexual webcam to webcam meeting (cybersex). They may make some excuse for their cam not working or may use a woman/man as part of their gang. They will then record the session and blackmail you with the video / images. Professional sextortion gangs will also ask you to install an app that helps improve sound quality. This app is spyware that is used to download all of your phones contact details. This allows them to make threats of sharing your explicit video with all of your friends and business contacts.
---
Romance scammer:
Attempting to commit fraud
The romance scammer is a serious criminal. This is organised cyber crime and they can generate millions from their victims each year. These fake profiles can be targeted to both males and females. A profile is created, often using stolen images and they start an online relationship with you. There will be some reason or excuse why they cannot meet you right away, such as being in another country. After they have you addicted to them or even make you fall in love with them they will start their scam. There will be some reason why they need you to send money to help them. Top reasons are; visa / flight tickets, childcare, medical bills, fines, prison bail. You will never meet them, the excuses and money sending will just continue for as long as you interact with them.
---
Tips for protecting yourself
Watch out for excuses
Scammers and fakes make a lot of excuses:
My phone is broken
I cannot use this site, let's use Yahoo
My webcam is broken
I don't know how to use my webcam
If someone you are talking to uses a lot of excuses then be on your guard. Someone who wants to date you will be just as keen as you are to meet in person. Test them, ask for a picture with them holding your username and if it doesn't match other pictures you have seen or they have another excuse then report them and delete them!
Reverse Google® image search
Did you know that you can use Google to search pages that have a particular image? If you use Google® Chrome as your browser this is very easy to do and we recommend you do this with any person you talk to online. Right click on an image or tap and hold for mobile devices and select 'Search Google for this image'. It will then show you a results page for every website that includes that image. Ideally there should be zero results found or a Facebook or Twitter page with a similar username. If you get pages of results that include blogs and porn sites then you have found a 'stolen image' and this person should not be trusted.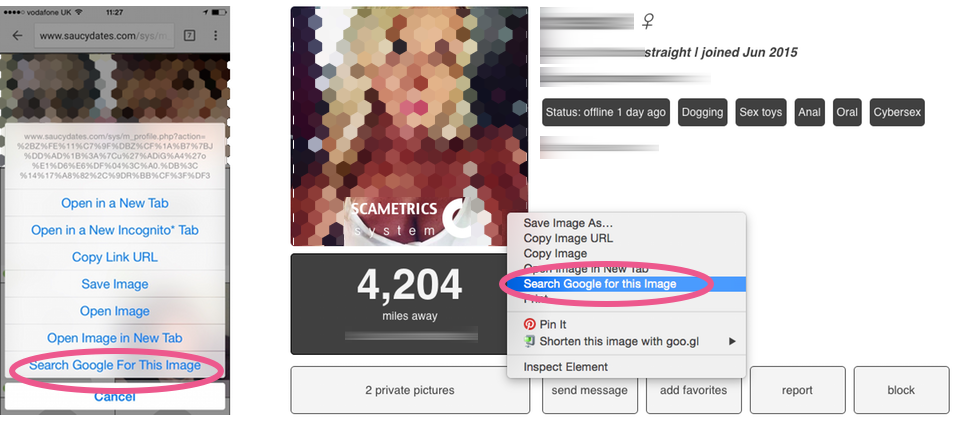 Reverse Google® image search in action on an iPhone 6 and iMac with Google® Chrome
Don't leave the dating site
A scammer wants to get you away from the dating site quickly and in to email. Most dating sites detect scammers but it can take a few days as they have to wait for users to report a profile or for the scammer to make a mistake. They will be contacting 100s of people at the same time and safety in numbers really does apply. If you continue to chat within the dating site you are much safer. Firstly, if the site deletes the scammer you will know they just saved you. Secondly, you don't have to give away your personal information.
Never ever send money
This is a super simple rule. Just don't send money. If someone asks for money then they are a scammer. Oh, and just incase you didn't understand this tip . . . don't send money! If they blackmail you . . . don't send any money!
Never upload explicit pictures that include your face
If you want to share more erotic pictures with another person online then crop your head off any pictures. If someone has your head and body as two separate picture they will find it much hard to perform a blackmail scam.
Keep cybersex to text only
If you engage in text based cybersex then you can protect yourself from blackmail / sextortion scammers.
Don't join another site
If someone tells you about another site and gives you a link just report and delete them. Don't waste anymore of your time, they are a scammer.
Ask for a specific picture
If you have any doubts about a person you are communicating with then request a picture that they would have to take especially for you. For example, holding a piece of paper with something you want written on it, standing on one leg with their hands on their head! I'm sure you get the idea.
Give up after 4 weeks
Chat to someone online and within the dating site and if they are not willing to meet in person within 4 weeks then forget about them and move on. Life's short so make the most of it!
---
Related articles and advice
Dating scammers infographic
:
Find out the most common usernames, IP address and much more that scammers use.
How we use Scametrics to protect members:
Read up on the technology we use to help reduce the number of fake profiles on our site and network.