saucypants™: Wearable technology for online dating
Online dating is considered, by most, to be a private affair. But with the explosion in mobile technology, mobile web apps and traditional apps it has become very more public. Anyone can look over your shoulder and see what you're up to. Additionally, an emerging trend over the past fews years is wearable technology, often communicating with other smart devices. At saucydates.com we have re-introduced privacy and fused it with wearables. By combining geolocation services and erotic vibrational stimulation we have created
saucy
pants.
Product introduction
The video below is a great way to familiarise yourself with the
saucy
pants product line.
True innovation
The real innovation with
saucy
pants is the ultra thin vibrational zones. Traditional vibrating systems use an electric motor and an off centre mass. This approach is bulky, power thirsty and incredibly difficult to water proof. We have utilised a liquid magnetic material that when a current is applied it forms microscopic waves. By varying the power quickly, the waves form a chaotic structure and cause vibrations.
The saucypants only contain pads of liquid material with a power connection. The users smart phone does everything else. This means that the phone provides the power, the GPS system, mapping information and users dating preferences.
This minimal design is not only effective but keeps the costs in check. With no moving parts, saucypants are machine washable (maximum temperature, 30 celsius, due to adhesives).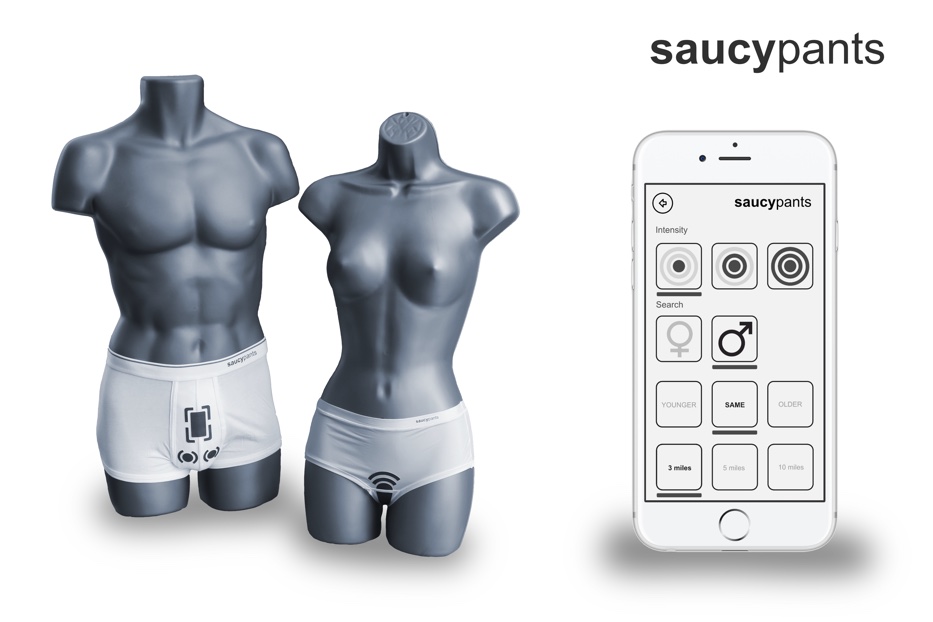 Male and female saucypants with the app control system. Vibration zones within the pants are made from liquid magnets. Major control systems are managed by the phone / app.
User experience
The navigation systems are different for males and females. The male version combines three different vibrating pads, this allows for left, right and forward navigation feedback. The female version has a single (more powerful) vibrating pad and provides match proximity feedback.
The male can use saucypants to locate a potential match and she will be aware of how close a match is to her. The combination of meeting someone new with intense erotic stimulation is a real game changer to the online dating industry. User feedback during testing has been immensely positive.
The future
We will make our technology available on license to allow other dating apps and websites a similar user experience. If you're interested in working with
saucy
pants or you would like to pre-order you own pair please contact us at the email address below and we will send you all the required details.
Pre launch offer
The first 250 people to order a pair of
saucy
pants will receive a 50% discount (Max one item per person). Pricing is as follows:
Male version: $22.95 / £17.95
Female version: $17.95 / £13.95
Order by emailing directly: saucypants@saucydates.com
saucypants: make dating more stimulating